Regular price
Sale price
$85.00 USD
Unit price
per
Sale
Sold out
SAVE $18 WITH THIS BUNDLE DEAL!
Want to fade embarrassing discoloration & stubborn dark marks?
If you've got stubborn dark marks, dry uneven skin tone and are tired of it! then you may be in need of our easy skincare bundle routine that will hydrate, fade and give you a long lasting glow
 A daily system of three essential products that will transform and maintain your skin for the better. Made with organic and natural ingredients intended to soften and nourish your skin.
This Essential Kit Includes:

Step 1
Turmeric Fade + Glow Cleanser- A gentle cleanser made to moisturize ,cleanse & even your skin tone at the same time. Use daily 2x per day for maximum results
Step 2
Vitamin C Hydrating Mist (Toner)- A rejuvenating toner spray formulated to naturally balance your skin's pH and break down darker pigmentation within the skin. Also it prepares your skin for application of other products. Use daily, 2x per day or as needed for maximum results.
Step 3
Illuminating Glow Serum- Lightweight and gentle serum to help your skin glow. Instantly see a difference in seconds. Never miss out on this step. Use after toner 2-3x per day or as needed.
Bundle includes a FREE Morning To Evening skincare guide! 
Ideal For: Stubborn drak spots, Hyperpigmentation, Acne scars, Discoloration, Dull skin, Sensitive skin
Care Instructions

External use only. Good for use 3 months. Products are natural based ingredients. Do patch test prior to usage.
Share
View full details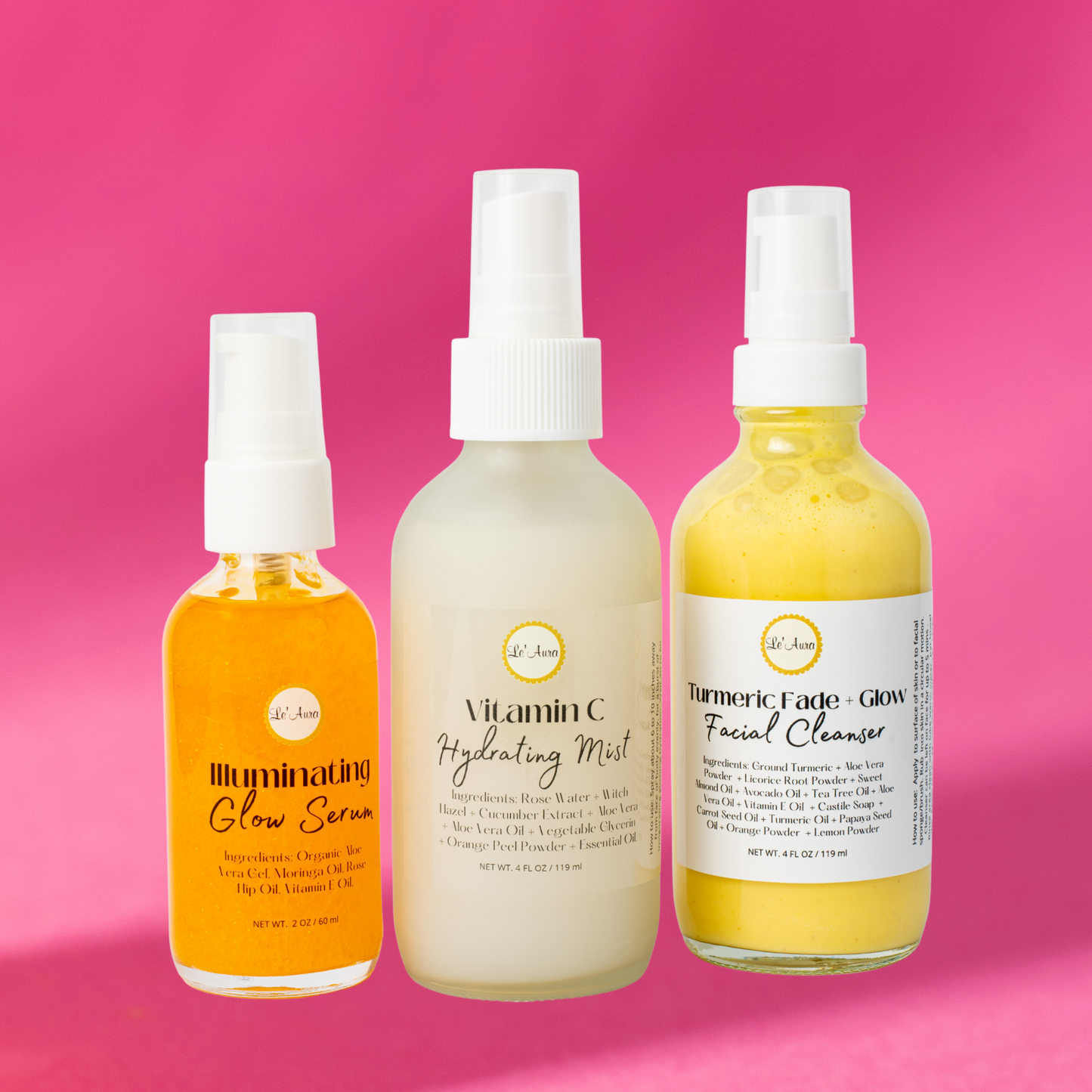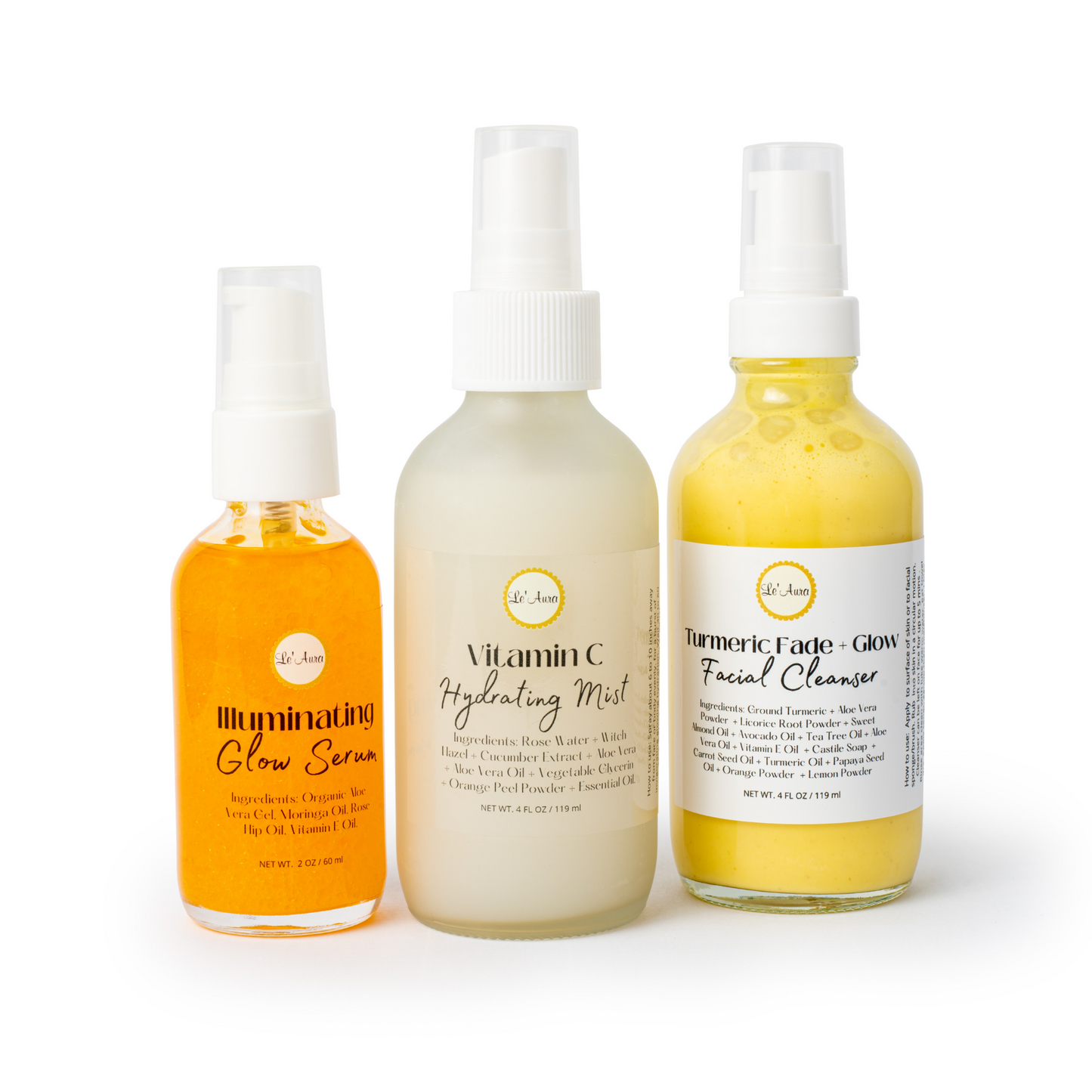 Glow Kit
Once I received my glow kit I tried it for a few days and I like how smooth my skin was but the only problem I had was the cleanser was a bit strong with the turmeric, I was using the kit every morning and night because I have sensitive skin I don't know why it tend to dry out my face in certain area. I will try to use it every other day if anything.
Overall, I like the hydration mist which I never used before and the serum is good too. I haven't seen no results yet on this products
My skin is glowing and beautiful
I seen the products on tik tok and as a fan of turmeric products I had to try. I bought the travel size because I was skeptical if it was going to work for me. Now I need the full size kit. I suffer from hormonal breakouts and discoloration after giving birth to my daughter and I definitely see a huge difference in my skin tone and texture. It is so much brighter softer and most of my discoloration is gone. It's been almost a month and I am obsessed. Definitely will purchase again
Made Fresh!

Please note handcrafting & processing may take about 5-7 business days depending on demand and operation.

General Description

We use nothing but the best selective natural and organic ingredients in all of our body treats, scented with top essential oils and premium fragrance oils. The quality of our products are exceptional which shows within every item. Treat your body today with Le'Aura body treats.
Fall In Love With Yourself
Never hesitate in taking care of yourself! We know how important self-care is and figured out ways to make it much easier and even more effective for you. Indulge without guilt, because you're going to love the feeling!