Regular price
$25.00 USD
Sale price
$24.00 USD
Unit price
per
Sale
Sold out
Silky Body Oil That'll Moisturize Your Skin!

A non-greasy formula with the most silky light texture. Our amazing blended body oils will give your skin a soft hydrated, non greasy feel with an amazing GLOW! Made from natural oils that will absorb deep into your pores moments after use while nourishing your skin. The aroma of these oils will be the only thing you need to leave a lasting impression everywhere you go.
Why Our Silky Soft Body Oil ?

Fast absorbing formula for a non-greasy feel
Filled with fatty acids as a protectant for sensitive skin
Penetrates deeply to lock in moisture
Helps to retain the skin's moisture and elasticity, while allowing you to stay moisturized all day long.
Adds a radiant glow & baby soft feel to skin
Perfect For Those With Sensitive Skin Including:
Dry skin
Sensitive skin
Stretch marks
Dry patches
Discoloration
Key Ingredients & Benefits: 
Aloe Vera- 

 

A healing & soothing oil that is very hydrating. This oil is top choice because of it's fast absorbing properties.
Avocado Oil- Contains vitamins A, D & E. Fast absorbing and anti-inflammatory. 


Description of scents:
Romance Blend- Sweet & Fresh
Melonated- Light Cucumber & Sweet Melon
Brown Sugar- Caramelized Sugar Cookie & Spice
Rich & Boujie- Light & Sweet Crisp Strawberry Champagne
Body Glow- Sweet Lemon Pound Cake ( Best for fading, discoloration, scarring, stretch marks & hyperpigmentation)
Ideal for those who suffer from dry skin. Great alternative to body lotions and body butter.
Ideal For: Stubborn drak spots, Hyperpigmentation, Acne scars, Discoloration, Dull skin, Sensitive skin
Care Instructions

External use only. Good for use 3 months. Products are natural based ingredients. Do patch test prior to usage.
Share
View full details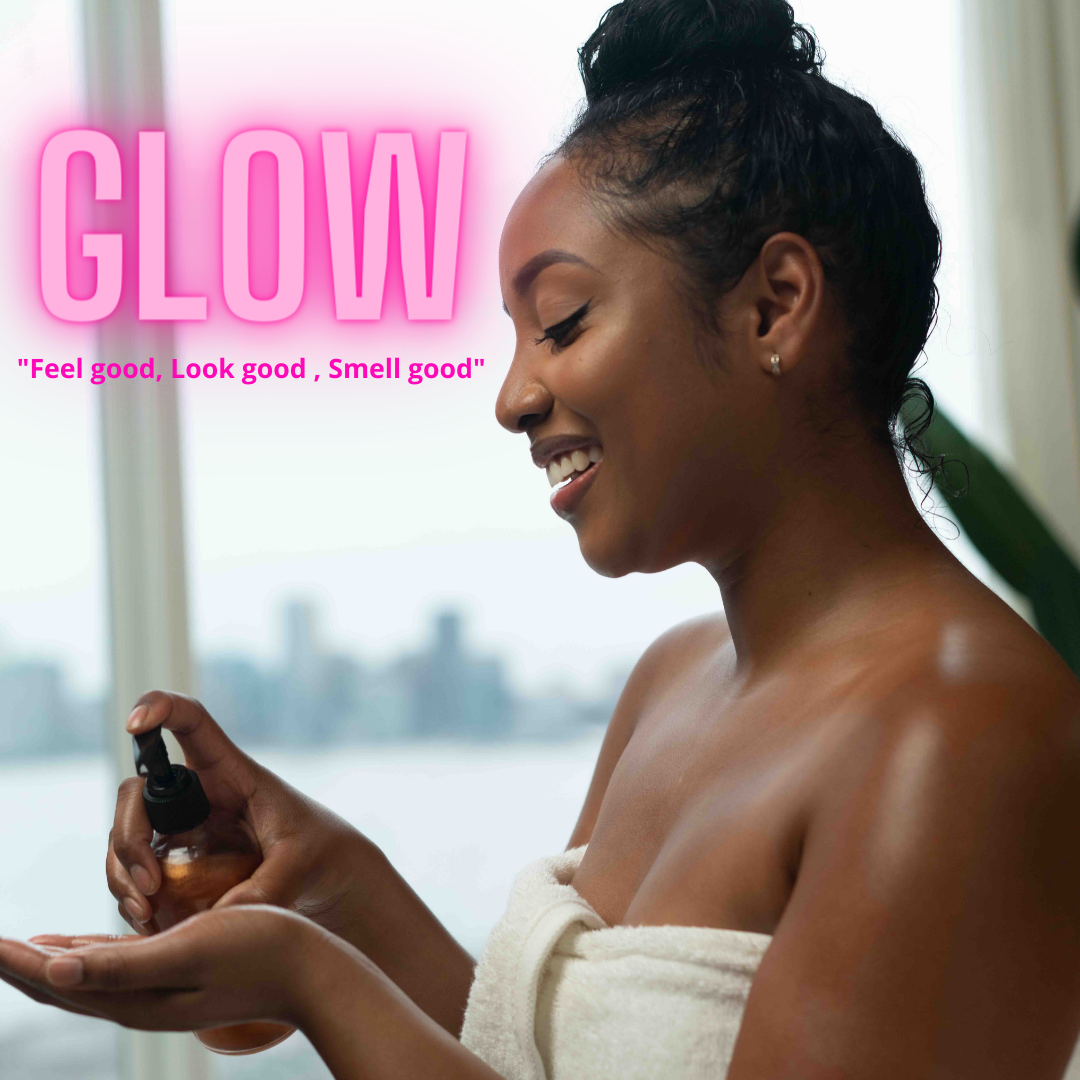 Body Smooth
This product is off the hook it makes your skin baby smooth works excellent on the skin my Mom Loves it I rate this product 👌 a 5 star plus 5 more stars.
Smells good !
i ordered the brown sugar oil and not gonna lie, it doesn't smell like how i thought. i didn't get any sweet caramelized cookie at all. it's gives like a fresh smell good perfume type of vibe. but it does smell really nice though. packaging and bottling is so cute. will be giving another try in the future !
Moisture!
Let me tell you!! I don't believe in lotion ! But this oil right here ! It had my knee shining! My coworkers was asking how I got my knee looking great and I was smelling so good after working from delivering mail.
Brown Sugar 😍
My family loves the brown sugar body oil! Even the kids ages 3 & 8! I can walk in the house and smell it from upstairs! Perfect scent around this time of year 😍
Sparkles in a bottle
Been using these products since 2020! And so glad I found them from the whole support black business campaign. Leaura has the best body oils that I'm not allergic to or
"too oily". My top favorite is the romance blend and melonated because of the glitter is gives off on your skin. My husband loves the scent so I put it on after a nice shower on those "special" nights if you know what I mean 🥰
Made Fresh!

Please note handcrafting & processing may take about 5-7 business days depending on demand and operation.

General Description

We use nothing but the best selective natural and organic ingredients in all of our body treats, scented with top essential oils and premium fragrance oils. The quality of our products are exceptional which shows within every item. Treat your body today with Le'Aura body treats.
Fall In Love With Yourself
Never hesitate in taking care of yourself! We know how important self-care is and figured out ways to make it much easier and even more effective for you. Indulge without guilt, because you're going to love the feeling!